Your Owlet Cam displays temperature and humidity readings for your little one's room on your Cam's live view page.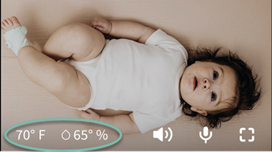 Reading the humidity
Find the humidity percentage level on the live view, next to the raindrop icon.
This is the percentage of Relative Humidity (RH) in your little one's room that is currently registering on the Cam's humidity sensor.
Reading the combination of temperature and humidity indicates either a comfortable or uncomfortable range for your child.

What Temp/Humidity range is comfortable or uncomfortable?
The Cam live view page interprets the room as comfortable or uncomfortable using these ranges:
Range

Temperature

Humidity

Comfortable

Between
60F and 80F
16°C and 28°C

Between
10% and 90%

Uncomfortable

Below 60F or 16°C
Above 80F or 28°C

Below 10%
Above 90%
What technology do I need to see the latest features?
We recommend you obtain the best service and security from your Cam by keeping the App and the Cam firmware updated.
In addition to your Owlet Cam, the latest features and upgrades require you to be using an updated copy of either the iOS or Android Owlet App:
If you suspect your Cam's firmware is not current, see the instructions in this article on how to check and update your firmware.
Updating your Cam's firmware
Verify and update your Cam's firmware:
Access Device Info in your phone's settings to check the current firmware version in the Owlet app if you need to obtain your current version number.

Your app also tells you if a firmware update is available for your Cam.

Tap the Gear icon while viewing the Home menu.


An orange

Cam Update Available button displays on your app's Home menu if a firmware update is available for your Cam.


Tap the orange Cam update available button to update your Cam's firmware.
Your humidity and temperature readings for your child's room are now fully supported via the Cam's live view.
What if I'm not receiving accurate Temp Readings?
The Owlet Cam's thermostat is inside its USB cable. This means several environmental changes can trigger a misleading reading. To improve the accuracy of your readings, try to:
Keep the thermostat section (USB cable) in contact with the same ambient air as your child to improve and achieve accurate readings.

Avoid keeping the thermostat in a too-cool place or near a heat source.

Please reach out to customer service for a replacement at contact@owletcare.com if you believe your USB cable thermostat is faulty.
Switching temperature between Fahrenheit and Celsius
To switch Fahrenheit or Celsius display for iOS:
Tap on

General

in your iPhone

settings.
Tap on

Language & Region.
Tap the

Temperature Unit

button.
Choose either

Fahrenheit

or

Celsius
For Android Users: This should be based on the current time zone and Language Settings.
Settings > General Management > Language, make sure this is set to your region.
However, you can also ask Google Assistant to change it from F to C permanently or perform the following steps:
Open the Google app

Scroll down to the Weather card

Press the menu button on that card

Press "Change temperature units to °F"

Press the menu again

Press "Change temperature units to °C".