When your Owlet Cam or mobile device is offline it prevents live streaming of your Cam feed. Use the questions and steps in this article to identify the cause and restore your Cam's streaming.
Please Note: Owlet products work with dual-band routers (2.4GHz and 5.0 GHz).
For setup, both your Owlet device and phone or tablet need to be connected on 2.4GHz

Please perform set-up within 10 feet of your router

After setup you may move your phone or tablet back to 5GHz

On some (newer) routers, having a special character in the network name or WiFi password can cause connectivity issues
Do you see the message "Your Owlet Cam is offline"?
It looks like this: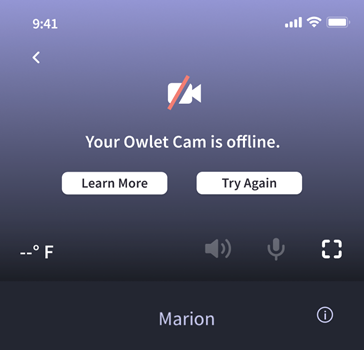 The message indicates your Cam is not connected. Check for these issues:
The Cam-internet connection or your Cam's connection to your mobile device.
Your Cam is disconnected from either your WiFi or from your carrier's network.
Have you checked your Cam's power supply or cycled your Cam?
Confirm that the Cam's plugs are snug, the Cam is plugged into a power source and is powered on. If this isn't resolving the issue,
Cycle the Cam's Power using these steps:

Disconnect your Cam from the power source.
Wait 30 seconds.
Reconnect the Cam to the power source.
Tap the Try Again button in the Owlet App.

If cycling the Cam's power isn't resolving the issue check the other steps in this article.
Is your WiFi online but you're seeing a "mobile device offline" message?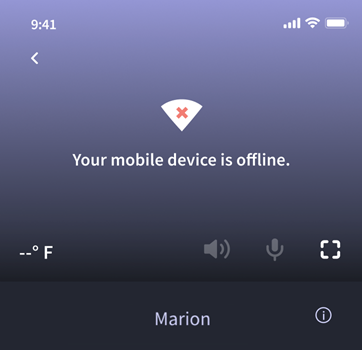 If you're seeing a message that looks like this screen and your WiFi is online, try this:
Check that your airplane mode is off in your phone settings.
Turn off your cellular data service.
Check the access to your WiFi network and reconnect, if needed.
Is your phone connected to the same WiFi as your Cam?
Try pairing your Cam again if your WiFi is broadcasting properly.
If you are located in an area with a new or additional wireless connection, you can try connecting to the new WiFi network:

Select WiFi from your Owlet Cam Settings

Select +Connect to a new network and follow the prompts.
Try re-logging or performing a password reset
Log out of your app.
Log back into the app to help clear any issues.
If you are having difficulty logging in, please perform a password reset:

Select Forgot Your Password from the login page of your Owlet app.
Enter your email address and tap Reset.
Retrieve the reset code from your email. (Check your spam or junk mail folder if you aren't seeing a code).
Tap the Enter Code button and enter the reset code inside your app.
If your Cam and mobile device are not back online and streaming now, try re-registering your Cam using the instructions in this article.
Have you tried re-registering your Cam?
If you aren't yet connected and streaming after trying these steps, please re-register your Cam.

CAUTION: This process removes the Cam from your account and removes WiFi connections. We recommend this only if the previous steps in this article are complete and your streaming issue is still unresolved.
To re-register your Cam
Tap the Account tab in the Owlet App.
Select Camera.
Select Remove this device.
Tap +Add Owlet device from the Account tab.
Follow the prompts to re-register your Cam as in your original setup process.

You should now be connected, streaming, and able to see your little one.
Nothing has worked so far, what else can I try?
First, before trying more intense troubleshooting, wait a bit and try again at a later time. Some services might be busy now or a network server might be down temporarily. Customers experiencing this issue often see it self-resolve at another time, even though their troubleshooting steps are no different.
If trying again at a later time is not helping and the steps in this article are not solving your Cam offline or streaming issues, it's time to try a factory reset. Just follow the prompts to set up your Cam again (do this only if you've tried everything else).
If the factory reset and the setup process are not bringing your Cam online, and everything else in this article is unsuccessful in resolving the issue, please contact Customer Care (includes International Technical Support) for assistance.
Additional information
If you're experiencing any other issues with your Cam, see the related articles in this section.
For general questions about using your Cam see our Cam FAQ articles.