Cam Wi-Fi signal strength is an important thing to pay attention to regardless of issues. Ensuring the signal strength is Excellent or Good, will help prevent connection issues down the road. If the signal strength drops to Fair, Weak, or Disconnected then there is a higher likelihood of connectivity issues.
While on the home screen of the app scroll down to the Cam section of the app and make sure it is expanded using the small arrow on the right side of the section. Within this menu is Cam Wi-Fi signal strength.
If the signal strength is low, indicated by yellow or red it is recommended to move your router closer to the Cam or remove obstacles that could obstruct the signal.
Device Connectivity or RSSI? Whats the difference?

RSSI stands for Received Signal Strength Indicator and measures how well a device is receiving a signal from a router. Device Connectivity is a term for connecting devices to each other in order to transfer data back and forth. These terms go hand to hand and oftem refer to the same thing.

RSSI score/level is anywhere between -55 and -1, which is sufficient for streaming video and audio. The closer the RSSI is to zero, the better.

This specific indicator can be found by clicking Account, selecting the Cam, then scrolling down to the bottom.
If the Cam is disconnected from the Wi-Fi try the following steps
Force close the Owlet app, then reopen the app and check the connection again.

Power cycle the Cam

Force close the Owlet App

Unplug the Cam

Wait two minutes

Plug the Cam back into the outlet

Open the Owlet app and check the connection.
If the Cam is still experiencing connectivity issues check the status light above the lens of the Cam. If the status light is blue or blinking blue this indicates a connectivity issue.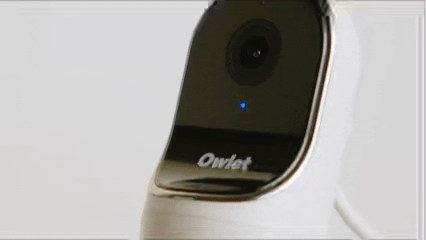 To resolve blue or blinking status light do the following.
Remove the Cam from the app

To remove the Cam, open the Owlet app and select the Account tab. Under devices, select the Cam and scroll down until you see Remove Device. Confirm you want to remove the Owlet Cam.

Put the cam into pairing mode

Hold the button on the back of the Cam for 3 seconds. The status light on the front of the Cam will blink red and blue, and the Cam will say "ready to pair."

Re-add the Cam back to the app

Open the Owlet app and under the Account tab scroll down to the bottom and select Add device.

Select Cam and follow the prompts.

Reassign your Cam to the appropriate child profile.
If you are still experiencing connectivity issues, please reach out to customer service and let our team of experts help you reconnect.